​11th May 1966: Amancio Amaro latched onto a through-ball and slid the ball past Red Star Belgrade goalkeeper, Milutin Soskic. Real Madrid had equalised, but they weren't done yet. Fernando Serena, Real Madrid's right-winger, controlled a lob pass with his left shoulder, let it drop once in front of him and then blasted it on the half-volley, before it could hit the ground the second time, from 25 yards out.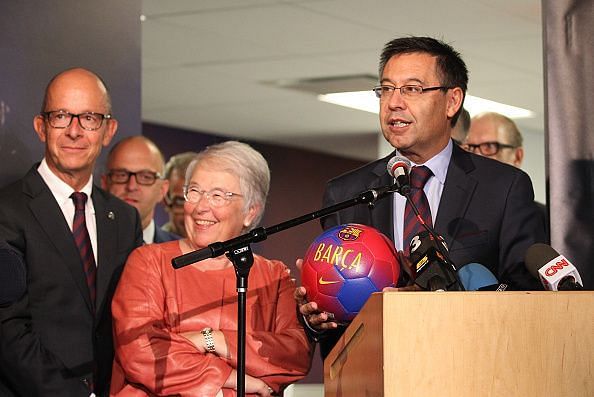 FC Barcelona Opens First US Office
The ball smashed the net and gave the Blancos a lead that they never let go for the rest of the game. As the full-time whistle was blown, the Merengues had won the European Cup for the sixth time in 11 years of its existence.
And a 3-year-old kid, with eyes fixated on the TV, was in awe. He didn't quite realise what was going on, but he grasped that watching the Whites play gave him joy.
27th May 1981
After a long and excruciating wait of 15 years, Real Madrid were back in the final of the European Cup. In the barren years in between, it felt as though a black magic curse had been laid upon the Whites not to win the competition that means everything to them.
In the meantime, the three-year-old had now grown up. He was 18. Adult. He could now do the 18+ things that he had been doing since 12. Fully aware. At least pretending to be so. He puts on a masquerade for a lot of things. He had to if he wanted to be accepted the society he finds himself in.
They would rip him apart if they knew his true allegiance.
Anyways, once again, he found himself glued in front of the television as Real Madrid took on Liverpool in the final of the European Cup. And they lost 1-0. He was devastated, he cried like Xavi Hernandez does when he sees uneven grass and overgrown mushrooms.
Little did he know that there were more tears in store for him, so much that the entire Dead Sea might have come from his eyes.
20th May, 1992
The full-time whistle has been blown at Wembley, Barcelona have won the European Cup for the first time in their history. Johan Cruyff's 'Dream Team' are dominating Europe and Spain as Real Madrid are nowhere to be seen.
Our protagonist is now 29 years old and on the cusp of realising his life's purpose. As his eyes witness Barcelona's triumph at the pub with his celebrating pals, he makes a promise to himself: that he would destroy the Catalan club so that Real Madrid never have hurdles in their way.
But how? How could he destroy Barcelona completely? Yes, there was a way: he had to do it from within.
With a smirk on his face, he was celebrating with his Cule pals because he had an image to maintain. After all, he was born in Catalonia and is a Catalan himself who goes by the name of Josep Maria Bartomeu.
27th May 2009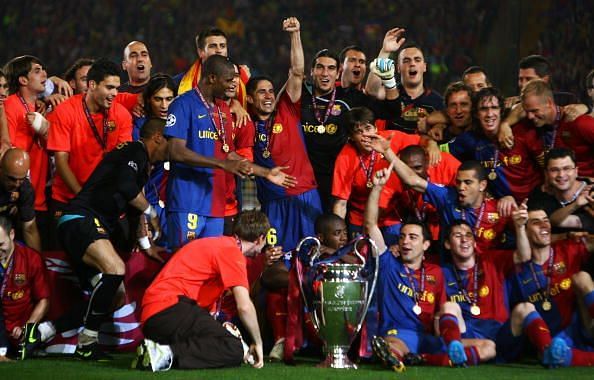 Barca complete their first treble
Treble. Unprecedented. Barcelona have just won the first treble in their history to start off their world domination in a remarkable fashion. They have etched themselves as one of the best teams of all time. They are to success what vasectomy is to birth-control.
Bartomeu is fuming. His plans have gone awry, but his work has begun; he is already the head of the basketball team of the club – football was just a step away. On the exterior, he shows extreme delight at the club's successes – throwing lavish parties with spiked food that gave the Barca officials diarrhoea later on – but deep down, he had already laid a plan to finish the club.
27th May 2013
It's funny how 27th May is a recurring theme in Bartomeu's life. The wheels have been set, and it has started to spin, Neymar has joined the club under shady circumstances that were perpetuated by Bartomeu.
Rosell wanted the deal to be as transparent as Rihanna's clothes in premiere events, but Bartomeu's insistence on keeping things shady and saving some money in the process convinced Rosell to take the help of the dark arts
Meanwhile, Bartomeu has already started leaking details of the corruption in the deal. He wore a batman mask and suit and headed to LFP offices at 2 am in the morning to drop off the papers necessary to expose Rosell.
However, as luck would have it, Bartomeu had to take a leak, and the suit had no zipper – so he ran to the nearest park, stripped himself bare behind a tree and released the pressure in his bladder. While doing so, he was spotted by a security guard and was chased by him all throughout the park.
Bartomeu, in his haste, just threw the documents from across the streets and onto the front door of LFP offices. The guards thought that it was a bomb and ran in all directions haphazardly. This gave Bartomeu the chance to escape as he rushed into his car without a piece of cloth on his body and raced off to his home.
Thankfully for him, the guard couldn't spot his face – and he had also done his work.
23rd January 2014
His day of success. Josep Bartomeu is now the president of Barcelona. Sandro Rosell has been forced to resign over the Neymar saga. Meanwhile, Real Madrid are winning like there is no tomorrow as Barcelona are plunging further into the abyss as most of its key players are ageing and the academy players are also being pushed out of the club by Bartomeu.
Bartomeu was ecstatic as a badger during mating season. He was partying while wearing a Madrid jersey and had already laid out a plan on what to do next. He was going to hold a board meeting where he would convince the socios – the club members – to allow him to invest on French kaka players while selling the club legends ASAP.
6th June 2015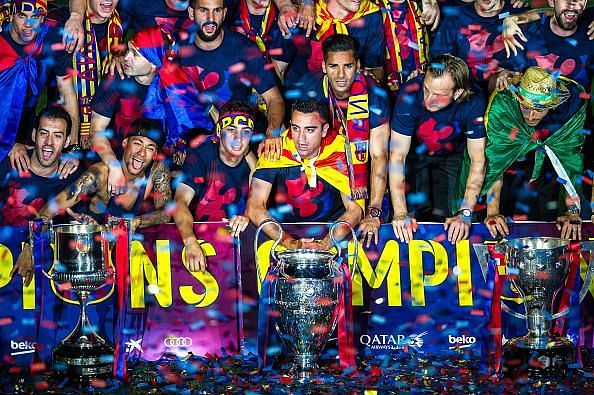 Barcelona's second treble
F**k. How did this happen? How did Barcelona win the treble despite having an ageing squad and no hopes placed on their shoulders? This is not right for Bartomeu, this was a black mark in his work. But he was now more vehement than ever to destroy the club like John Terry desecrated his reputation after sleeping with his teammate's wife.
So he knew what to do: to sell the best players of the club one by one. He immediately called Dani Alves and told him that his mum was fat – and that was the beginning of Alves' friction with the club. The Brazilian left the club the following year and now Neymar was Bartomeu's next target.
But he couldn't call him directly and say what he said to Alves; he had to do it subtly. So he instructed all the photographers of his club always to take pictures of Lionel Messi – and not Neymar – and make them the picture of the match, even if Messi was as effective in the game as keyboard warriors are anywhere apart from the internet.
3rd August 2017
Bartomeu's plan has worked. The photographers' fixation on Lionel Messi caused Neymar to be baffled after Barca's 6-1 victory over Paris-Saint Germain. Neymar was the star of that game, but the endearing image of the match was of Lionel Messi celebrating with the fans.
And now, Neymar was off to PSG – leaving Bartomeu with another problem: he has €222 million to spend from Neymar's sale. While he was pondering on how to do it without buying any quality players, he saw dog faces on the street, and it instantly gave him an idea.
14th August 2017
Official: FC Barcelona sign Paulinho for €40 million. Barcelona fans are livid and have started a #BartoDimiteYa (Bartomeu resign now) movement on Twitter and made it a worldwide trend.
But that won't be enough to make him go. Some people just love to see the world burn. In this case, some people just love to see Barcelona burn – and Josep Maria Bartomeu is one of those people.
Disclaimer: This is a work of pure fiction, and none of these events ever happened